Chapter Sponsorship
The 2021 Chapter Sponsorship Information & Agreement is now available! If you are a Chapter industry partner, you can support the chapter's activities and programs in 2021. Sponsorships run on a calendar year, beginning on January 1 and ending on December 31. Contributions or gifts to the Nebraska/Iowa Chapter of the American Society of Interior Designers are not tax deductible as charitable contributions; however, they may qualify as a business expense. Please check with your accountant.

You may view and reserve your sponsorship online. All funds must be paid before sponsorship benefits begin.
Thank you again to our 2020 Chapter Sponsors!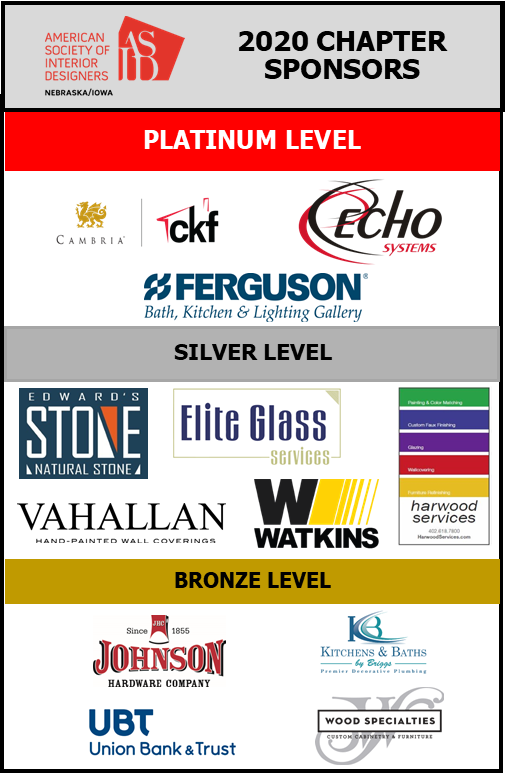 ---
Career Center Advertising
The Nebraska -Iowa Chapter Career Center is an online service available to members and non-members (for a fee). All classifieds are available for up to 90-days posting. Contact the Chapter Administrator for assistance.
Member cost: $0
Non-member: $50
---
National Sponsorship
Sponsorship opportunities are available on both the local and national level, and offer the ability to increase visibility through additional marketing, branding, special access, or deeper engagement with an audience. As a member of a Chapter, Industry Partners have the opportunity to be involved in their local design community – to network and connect with other members, participate in leadership, or elevate visibility as a chapter sponsor.
To augment local chapter efforts, we also offer sponsorship opportunities that align with ASID national platforms, programs and initiatives, providing you additional access to the ASID network through a variety of channels depending on your preferred exposure.